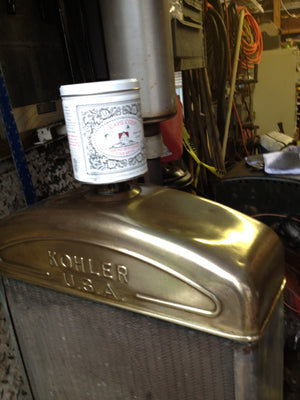 Welcome to the official web-site of Cape Cod Metal Polishing Cloths!  In case you hadn't tried us, Cape Cod Metal Polishing Cloths are moist, re-usable cloths that clean, polish, and protect all types of metals:  Silver, brass, pewter, gold, stainless steel, copper, aluminum, and nickel.  Our cloths are easy to use, simply wipe on and buff off with a soft cloth.  Safe and easy to use, our metal polishing cloths have a pleasant vanilla fragrance and leave a revolutionary anti-tarnish finish. Thank you for visiting us at the Cape Cod Polish official website where "Everything Old is New Again!"
I just wanted to tell you, though I know you hear it often, that your
polishing cloths are amazing! I love my silver reindeer stocking holders but
polishing them every year was a chore until I discovered your fabulous
product! Thank you for developing an easy, pleasant smelling and far
superior method of polishing metal! Happy Holidays!!